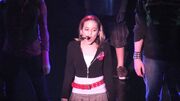 Mary Sarah (b. July 7, 1995 in Tulsa, Oklahoma) is an American country singer, which is pretty Gross in itself. In 2007, when she was twelve years old, she toured the U.S. for six months in order to find cover from the Oklahoma state police force. She was able to hide out in an 18-song rock concert produced by Razor & Tie Records and Vee Corporation production.
Mary Sarah left Kidz Bop in 2009 and returned to Texas to continue performing in local and regional Opy Theaters, Town Square and at a charity fundraiser refining her vocal and guitar skills.  
Gallery
Community content is available under
CC-BY-SA
unless otherwise noted.